2024 programme dates are to be released shortly.
Invest in your Team to Help Drive Results
The BDIA Inspire Influence Sell Sales Training Programme in Partnership with Training Coach, Justin leigh.
The BDIA exclusive members' programme teaches the full sales process from 'making successful first contact' through to 'developing long term loyal customers'. Research shows that around 55% of sales people have never been trained to sell effectively, they may know the marketplace, their company and their products, but they haven't been trained in vital sales skills. With this programme, we're aiming to provide a solution to that problem in the UK dental market.
Before any delegates enrol on the programme, their selling effectiveness is measured and benchmarked against a database of over 1,200 sales professionals in the UK who have taken the Sales Acceleration Scorecard.
The programme breaks down each stage of the selling journey into an easy to learn and apply 2 day training programme, followed up by an online group coaching call, to support implementation in the field.
You and your team will learn the fundamentals of the sales process and discover how to gain your own competitive advantage, through a consultative selling and influencing approach. All of the models and content are from the bestselling book 'Inspire, Influence, Sell' by Justin Leigh.
This complete sales training programme is an excellent investment opportunity for members to upskill their sales teams, enabling you and them to benefit from a community of dental sales professionals and Justin Leigh's skills, expertise and extensive experience.
Watch Last Year's Training Programme Recap with DD Group
The programme is perfect for a range of employees and the perfect investment opportunity.
The Process and Structure
Delegates who enrol on the training will take part in a 2 day training & coaching workshop at a venue. Each day will last around 8 hours per day and lunch will be provided for delegates. 2024 programme dates are to be released shortly.
What do I get when I enrol on the programme?
Students who enrol in the Inspire Influence Sell training programme will receive the following:
Sales Acceleration Scorecard & Development Plan for each attendee. A PDF personal development report showing your sales skill level and a plan to improve in the highest impact areas of selling.


Before any delegates enrol on the programme, their selling effectiveness is measured and benchmarked against a 1,200 other UK sales professionals. This enables you and your teams to better understand your own strengths, development areas and blind spots, and to identify the highest priorities for development.

• Implementation with the INSPIRe Sales Toolkit – an interactive toolkit designed to be a 'bible' for sales professionals to refer to that includes, planning sales tools, progress measurement tools and workbooks to complete.


Inspire sales process reminder cards – a great reference tool for sales professionals to refer back to when preparing for key customer meetings.


Additional sales workbooks and sales assets


Join a High Performing Dental Sales community.


eLearning Portal – access any time, anywhere.


Principles & Models from Inspire, Influence, Sell.


Clear Actions after every session.


Access to the Webinar/Workshop.


A video recording of the two day training workshops.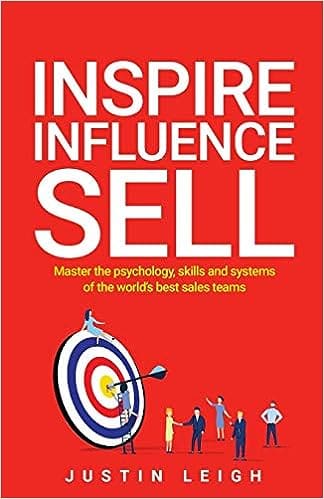 Access to a student WhatsApp group to ask Justin questions and discuss course topics.


Q&A Access.


PDF of the slides from each web class.

Signed paperback copy of Justin Leigh's INSPIRE, INFLUENCE, SELL (Amazon Best Seller).


E-copy of the INSPIRE, INFLUENCE, SELL manuscript.


Instant access to the 'Cultivating a Positive Growth Mindset' & the INSPIRe Sales Academy online programmes.
Total investment for the programme is £1,745 + VAT per delegate (includes two 8 hour day's training, all training materials and literature and 1 night hotel accommodation).
Join us in championing the dental industry
Join BDIA today and take your dental practice to the next level. Whether you are a dental professional, manufacturer, supplier, or service provider, BDIA offers a range of resources and benefits to support your success.
Stay up to date with the dental industry
Be the first to know about the latest developments in our professional and subscribe to the BDIA newsletter