2024's programme dates are to be released shortly.
Invest in your Team to Help Drive Results
The BDIA Inspire Influence Sell Sales Training Programme in Partnership with Executive Coach, Justin leigh.
The BDIA exclusive members' programme teaches business leaders the principles, skills and tools used by some of the world's most experienced leaders. Research shows that only 39% of people promoted to management or leadership roles receive any training. Many leaders are previous high performers who realise too late that being a high performer and leading a high performance team require a completely different approach. With this programme, we're aiming to provide a solution to that problem for business leaders in the UK dental market.
Before any delegates enrol on the programme, their leadership effectiveness is measured and benchmarked against a database of over 500 business leaders in the UK who have taken the Coaching Leaders Scorecard.
The programme breaks down different principles and skills of coaching as a leadership style into an easy to learn and apply 2 day training programme, followed up by an online group coaching call, to support implementation in your business.
You and your leadership team will learn the fundamentals of leadership and the coaching process to discover how to create your own approach to creating a high performance team and leading your organisation. All of the models and content are from the upcoming book 'Coaching Leaders' by Justin Leigh (due to be published in June 2023).
This complete leadership training programme is an excellent investment opportunity for members to develop their leadership capability, enabling them to benefit from a high performing community of leaders, led by a highly experienced business leader and qualified Executive Coach, Justin Leigh.
Who the course is perfect for
Fast-track your understanding of leadership principles with the Coaching Leaders training progamme.
Listen to what these graduates of the programme have to say...
The Process and Structure
2024's programme dates are to be released shortly.
What do I get when I enrol on the programme?
Delegates who enrol in the Coaching Leaders training programme will receive the following:
Coaching Leaders Scorecard & Development Plan for each attendee. A PDF personal development report showing your leadership coaching skill level and a plan to improve in the highest impact areas of leadership.


Before any delegates enrol on the programme, their leadership effectiveness is measured and benchmarked against a 800 other UK leaders. This enables you to better understand your own strengths, development areas and blind spots, and to identify the highest priorities for development.


Implementation with the Coaching Leaders Toolkit – an interactive toolkit designed to be a 'bible' for leadership coaching to refer to that includes, planning tools, progress measurement tools and workbooks to complete.


COACH process reminder cards – a great reference tool for leaders to refer back to when preparing for team coaching sessions, 1:1 reviews and appraisals.


 Join a High Performing Dental Leadership community.


eLearning Portal – access any time, any where.


Principles & Models from Coaching Leaders.


Clear Actions after every session.


Access to the Webinar/Workshop.


A video recording of the two day training workshops.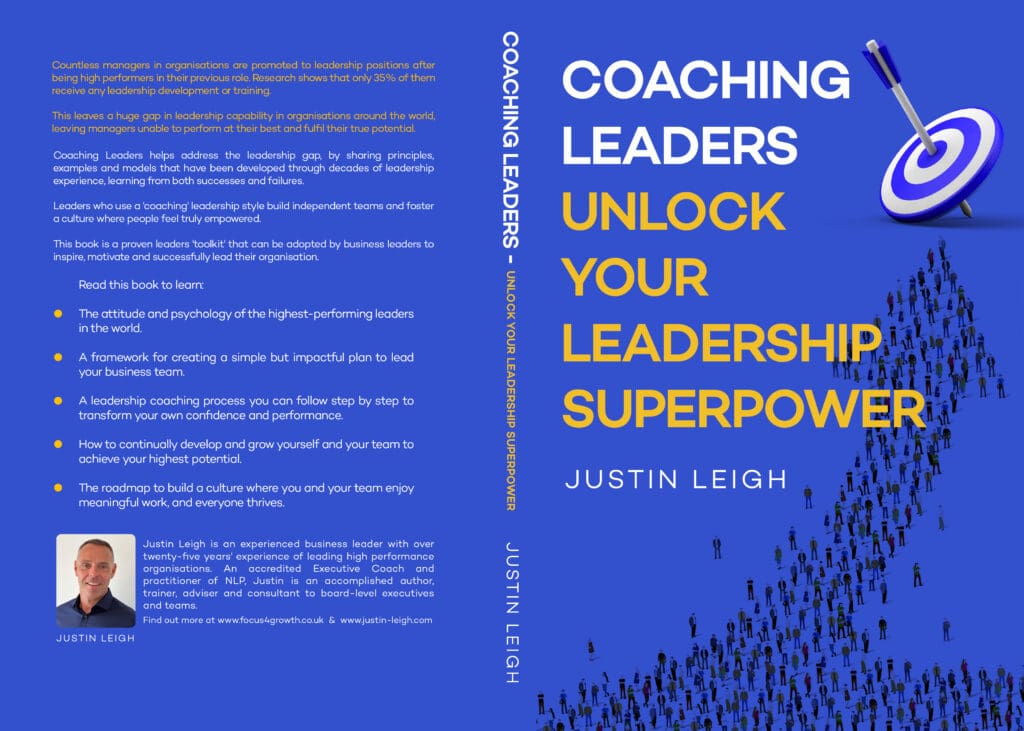 Access to a student WhatsApp group to ask Justin questions and discuss course topics.


Q&A Access.


PDF of the slides from each web class.


Signed paperback copy of Justin Leigh's Coaching Leaders book.


E-copy of the Coaching Leaders manuscript.


Instant access to the 'Cultivating a Positive Growth Mindset' and 'Coaching Leaders' online programmes.
Total investment for the programme is £1,995 + VAT per delegate (includes two 8 hour day's training, all training materials and literature and 1 night hotel accommodation).
Join us in championing the dental industry
Join BDIA today and take your dental practice to the next level. Whether you are a dental professional, manufacturer, supplier, or service provider, BDIA offers a range of resources and benefits to support your success.
Stay up to date with the dental industry
Be the first to know about the latest developments in our professional and subscribe to the BDIA newsletter